Foreword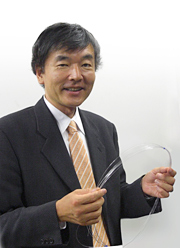 The first International Conference on Plastic Optical Fibers was held in Paris in 1992. Since then, the conference has been held every year in all over the world including European and Asian countries, United States and Australia.
At these conferences, a lot of POF-related important R&Ds and innovations have been reported and many of them have come to the real world markets; such as digital audio interfaces, factory automations, automotive applications, illuminations, sensors, office & home networks and so on.
The 19th International Conference on Plastic Optical Fibers (POF 2010) continues the tradition and further expands into new research and application fields. We welcome all of you to the conference in Yokohama, Japan, filled with an attractive atmosphere designed to foster communication among researchers, scientists and engineers.
Yasuhiro Koike
General Chair of International Cooperative of Plastic Optical Fiber (ICPOF)