Exhibition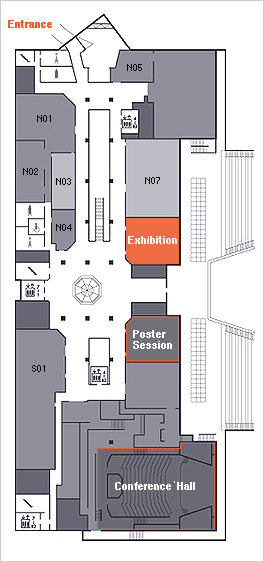 Exhibition will be open from October 19 at noon to October 21 at 4 p.m.
Exhibition hall is located at the same floor as the conference hall.
Maximum 16 blocks are available. Each block has 1.2 m x 2.4 m space separated by movable partition walls, and equipped with a name plate, a Table (0.45 m x 1.8 m), a chair and a power source (100 VAC, max. 200 W).
Layout plan of the exhibition is as shown in the figure.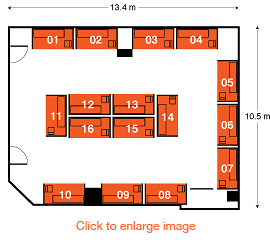 Blocks will be allocated on a first-come, first-served basis.
Order
Exhibition space / Block
1.2 m x 2.4 m
Facilities
1 table (1,800 x 450 mm) / Block,
1 chair / Block, Name panel,
Power source (100 V

AC

, max. 200 W)
Price / Block *
JPY 200,000
*Complimentary registration and banquet fee for one delegate per block is included.
Refund / Cancellation Policy
All requests for cancellation must be sent to info@pof2010.org prior to October 1, 2010.
Cancellation or reduction of space before September 1
No cancellation fee
Cancellation or reduction of space between September 1 and September 30
50% refund
Refunds will not be granted after September 30.